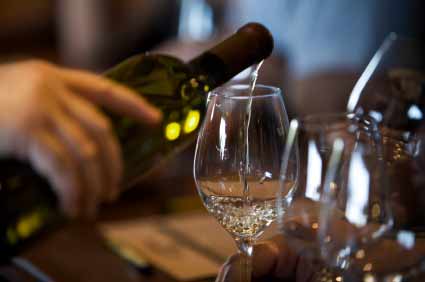 Walla Walla is filled with wineries and tasting rooms with more coming on line every year. You will find many tasting rooms while shopping downtown Walla Walla such as Fort Walla Walla Cellars, Forgeron Cellars and Sapolil to name a few.
With over 100 wineries to choose from around the valley, it will take more than a weekend to enjoy them all. But, then again, it will just give you a reason to keep coming back. For a current list of wineries search Walla Walla Uncovered and visit the Walla Walla Wine Alliance website.
Highway 12 traveling east into Walla Walla is becoming lined with great wineries to visit such as Woodward Canyon, L'Ecole No 41, Cougar Crest, Reininger, and Three Rivers. Don't pass up an opportunity to stop and taste the wines of Waterbrook Winery at 10518 W Highway 12. Waterbrook's natural, contemporary and northwest inspired tasting room is the perfect setting for all wine lovers. Visitors who prefer to taste outdoors will find Waterbrook is the perfect place to celebrate Walla Walla's natural beauty. With panoramic views of the sprawling grounds, large ponds and picturesque Blue Mountains, visitors can relax on the patio with a glass of award-winning wine and enjoy the tranquil surroundings or taste their wines in the cozy, inviting sitting area. For more information, call (509) 522-1262.
The Industrial Park at the Regional Walla Walla Airport has become a haven for new wineries and some favorite long-standing originals. Dunham Cellars makes its home in a rustic, remodeled World War II era airplane hangar. This family-owned winery continues to increase production and wine varietals, and has planted estate vineyards in prime locations around the Walla Walla Valley Appellation. When Dunham's first vintage, a 1995 Cabernet Sauvignon was released, it was deemed one of the finest wines made in Washington by Wine Enthusiast Magazine. The winery also features motor home amenities with two full-hookup sites. For more information, call (509) 529-4685.
South of Walla Walla is becoming clustered with award winning wineries, such as Northstar, Pepper Bridge and Dusted Valley Vintners (the list goes on!). Keep traveling south down the highway and you will come upon a winery like no other in the state of Washington. Basel Cellars Estate Winery is a one of a kind experience featuring award winning wines and magnificent views making you feel like you are on top of a mountain at Yosemite's Ahwahnee Lodge or Oregon's Timberline Lodge at Mt. Hood. The winery's building, of casual grandeur built with handcrafted logs and natural stone masonry, holds a production of about 4000 cases per year focusing on Bordeaux-style blends, Syrah and Cabernet Sauvignon. As well as a winery, Basel Cellars features eight guest rooms within the lodge, and a ninth room in the cabana house. For more information, call (509) 522-0200.
Take note that most wineries charge a tasting fee, which will be applied to any wine purchases. Typically, fees range from $5 to $10. If you decide to join a winery's wine club, they may be kind enough to waive your tasting fee – it's worth asking.
Additionally, quite a few wineries are open by appointment only or closed to the public entirely. This information is noted in the Walla Walla Uncovered directory of wineries.